About Us
Principles
Commitment to Excellence
We diligently work to achieve perfection in our productions.


Always Asking: "How can we improve?"
The dynamics of the marketplace are constantly changing so we must remain proactive and be at the forefront of change.


Committed to Economic Empowerment and Community Development
Realness and remaining true to self are important to our growth and success, we always seek ways to build and give back.


Value Creativity and Diversity of Ideas and People
Constantly creating new and innovative ways to capture the imaginations of our target.


Recognition of a Smart and Savvy Target
Always treat our target in that manner.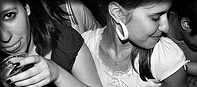 See what's coming up, reserve your VIP tickets now!
Events...